var message="Please Do Not Copy My Listing";
function clickIE4(){
if (event.button==2){
alert(message);
return false;
}
}
function clickNS4(e){
if (document.layers||document.getElementById&&!document.all){
if (e.which==2||e.which==3){
alert(message);
return false;
}
}
}
if (document.layers){
document.captureEvents(Event.MOUSEDOWN);
document.onmousedown=clickNS4;
}
else if (document.all&&!document.getElementById){
document.onmousedown=clickIE4;
}
document.oncontextmenu=new Function("alert(message);return false;")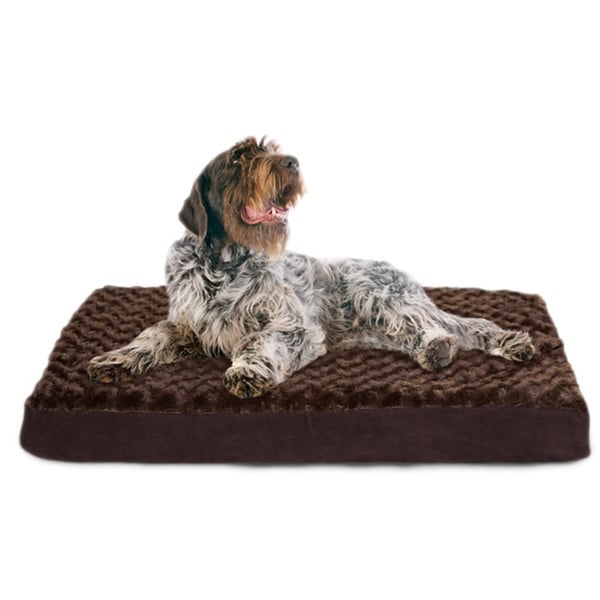 Senior Dog Bed Description
This Memory Foam Senior Dog Bed
is an ultra plush deluxe gusseted orthopedic mattress. Mattress is an exceptional slab
of convoluted foam. Covers are zippered for easy removal and laundering.
Water-resistant oxford side wall and bottom.
Polly-canvas. Medical-grade orthopedic foam core relieves joint pain and
promotes better circulation. Perfect for elderly and disabled pets or those
that could benefit from extra support.
Pets bring so lots joy to all our lives. In addition
to running, playing, climbing, and catching, they perform essential daily tasks
like: acting as furry babysitters for our little ones; helping us locate lost
items (and people!)
They provide a sympathetic ear for our problems and a
warm furry embrace when we need a hug. And letís not forget their generous offers
to critique any new recipe!
All of this love and loyalty they give to us freely –
without need or expectation of any return. All they ask for is a pleasant Nap at
the end of the day.
This Senior Dog Bed
is particularly good for older dogs who suffer from arthritis, Place it in the
bedroom or tucked away in the living room to create a quiet retreat for your
dog.
Features
Dog Bed Relieves joint pain & promotes circulation

Water-resistant oxford side wall and bottom

Materials: Faux fur, convolute foam

Cover Machine Washable
Dimensions
Small (Up to 25 lbs)
3.5″ H x 15″ W x 20″ D

Weight: 1.5 lbs
Medium (26 – 50 lbs)
3.5″ H x 30″ W x 20″ D

Weight: 2 lbs
Large (51 – 100 lbs)
3.5″ H x 36″ W x 27″ D

Weight: 3 lbs
Extra Large (101 lbs or more)
4.5″ H x forty four" W x 35″ D

Weight: 5 lbs
Shipping Policy
Free Shipping to the lower forty eight states ~ We do not ship to P.O. Boxes or Military APO's

International shipping available using eBay's global shipping program

Items may be shipped directly from our suppliers warehouse to get to you faster

International: All Electrical Items are US standard (120V) unless otherwise stated

Because we use multiple suppliers there is no combined shipping or local ?% up

We appreciate your feedback. If you have a problem please do not hesitate to contact us!

Sales Tax will be charged for orders shipped to NY state
Return Policy
We will need to request an RA (Return Authorization) from our supplier

If you want to return an item, you MUST first send us a message letting us know.

We will coordinate return with supplier and forward you the RA and shipping labels.

Items being returned must be in original packaging shipped in and condition it arrived in.

If product arrives damaged, please send photo of damage to verify.

Returns are accepted within 30 days of receipt for this Senior Dog Bed