.title{ font-size: x-large; text-align: left; text-transform: capitalize;f font-family: 'Hind', sans-serif; } .desc{ font-size: medium; line-height: 110%; text-transform: none; font-family:'Hind', sans-serif; } .bullet{ font-size: medium; margin-left: 25px; line-height: 110%; text-transform: none; font-family:'Hind', sans-serif; } .mainimage { text-align: center; }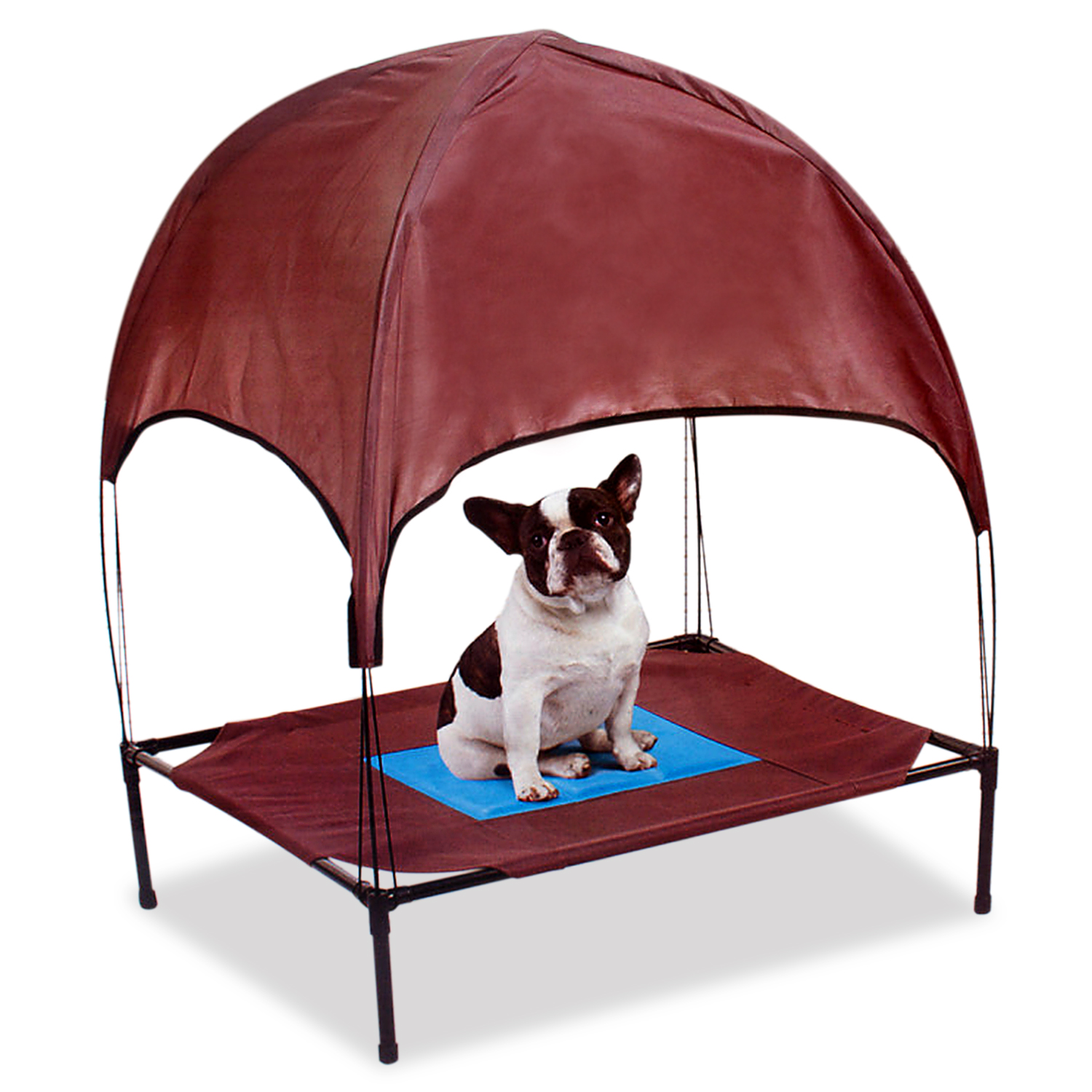 Cooling Pet Dog Cot with Removable Canopy
Dogs, like humans, love to relax and sleep the day or night away. If we humans had a dog's day, we'd never get out of bed. Why wouldn't they, when they have this cool dog cot? This elevated dog bed is perfect because it not only keeps your pooch off of your bed and out of the way, they're also cooled off with a self-activating cooling gel. Elevated dog beds are a superb invention because they're off the ground, especially if you have a unclean rug and want to keep your little friend as a clean as possible, and that's saying a lot, but they're also great for providing air circulation as well.
USAGE – Let your dog not only relax and sleep, but let them cool off on this pet cot. They'll be so happy and well-rested, and won't be so irritated and agitated on those sticky-hot days
KEY FEATURE – This dog elevated bed is not your average pet bed. Of course your dog wants to lay wherever it feels comfortable, but the fact that it's not only comfortable, but it cools them off is what makes this bed a success.
MORE DETAILS – Can be used indoors or outdoors. Like inside your living room or bedroom or outside at the beach. Easily to assemble and no tools required.
MATERIAL – Made of a heavy-duty durable fabric, it features no-slip, non-scratch protective feet and it's a lightweight tubular frame that holds up to 30-lbs
DIMENSIONS – This cool dog cot measures forty two" x 32″ W x 25″ Deep . The gel insert measures 10 ½-inches x 14 ½-inches
Shipping
Your packages are shipped FAST! We stock all our products in our own warehouse and we usually process most of the orders in 1 business day. Weekend Orders will be handled immediately on Monday. Before you purchase any item, Please update your address changes on eBay and PayPal. We combine multiple orders, but some cases we might ship each item separately. You will be receiving tracking number to track your package. After your order has been processed and shipped, arrival time usually takes 1- 10 business days depending on your order and location.
Payments & Checkout
Payments are expected within three days after the end of the auction. We accept PayPal and any major credit cards. Sales tax must be paid by California Residents. If you have any questions or wish to discuss payment options, please contact us at IcyDeals
Hassle Free Returns
We offer a 30 day money back guarantee, simply return the item and we will refund your cost. Please submit your request to us from your order or contact us directly for assistance. Returns Authorization can take 24-48 hours to process. Please allow us 10 – 15 business days to receive the item and process the refund.
Contact Us
If you have any additional questions or comments please don't hesitate to contact us at IcyDeals. We try to answer all emails within 24 to forty eight hours. Our hours of operation are 9 am to 5 pm PST. Any email or phone call received after operation hours will be answered immediately next business day. Please note that we are here to help you and our number one goal is our customers satisfaction. Buy with Confidence!
.logo-container { display: flex; -ms-flex-direction: row; -webkit-flex-direction: row; flex-direction: row; -ms-flex-pack: center; justify-content: center; -webkit-align-content: center; -ms-flex-line-pack: center; -ms-align-content: center; align-content: center; } .sc-logo { width: 145px; height: 36px; display: block; background-size: 145px 36px; background-image: url('https://www.channelsmanager.com/downloads/images/sc_logo.svg'); background-repeat: no-repeat; background-position: 0 zero; } /*x-small*/ @media (max-width: 599px) { .sc-logo { width: 60px; height: 14.547px; background-size: 60px 14.547px; } } /* small */ @media (min-width: 600px) and (max-width: 959px) { .sc-logo { width: 100px; height: 24.244px; background-size: 100px 24.244px; } } /* medium */ @media (min-width: 960px) and (max-width: 1279px) { .sc-logo { width: 145px; height: 36px; background-size: 145px 36px; } } /* large */ @media (min-width: 1280px) { .sc-logo { width: 200px; height: 48.489px; background-size: 200px forty eight.489px; } } .sc-text { font-family: calibri; font-size: medium; text-align: center; } /*x-small*/ @media (max-width: 599px) { .sc-text { font-family: calibri; font-size: xx-small; } } /* small */ @media (min-width: 600px) and (max-width: 959px) { .sc-text { font-family: calibri; font-size: small; } } /* medium */ @media (min-width: 960px) and (max-width: 1279px) { .sc-text { font-family: calibri; font-size: medium; } } /*large */ @media (min-width: 1280px) { .sc-text { font-family: calibri; font-size: large; } }