img{max-width:100%} #product-template ul li {position: relative;left: 1em;padding-right: 1em;text-align:left !important;}@media only screen and (max-device-width: 600px) {.imageSize_1, .imageSize_2, .imageSize_6, .imageSize_7, .imageSize_8, .imageSize_9, .imageSize_10, .imageSize_11, .imageSize_13 { float: none !important; width: 98% !important; margin: 1% !important; }}
Outdoor Wand Rope Interactive Dog Toys Extendable Flirt Pole Training Chasing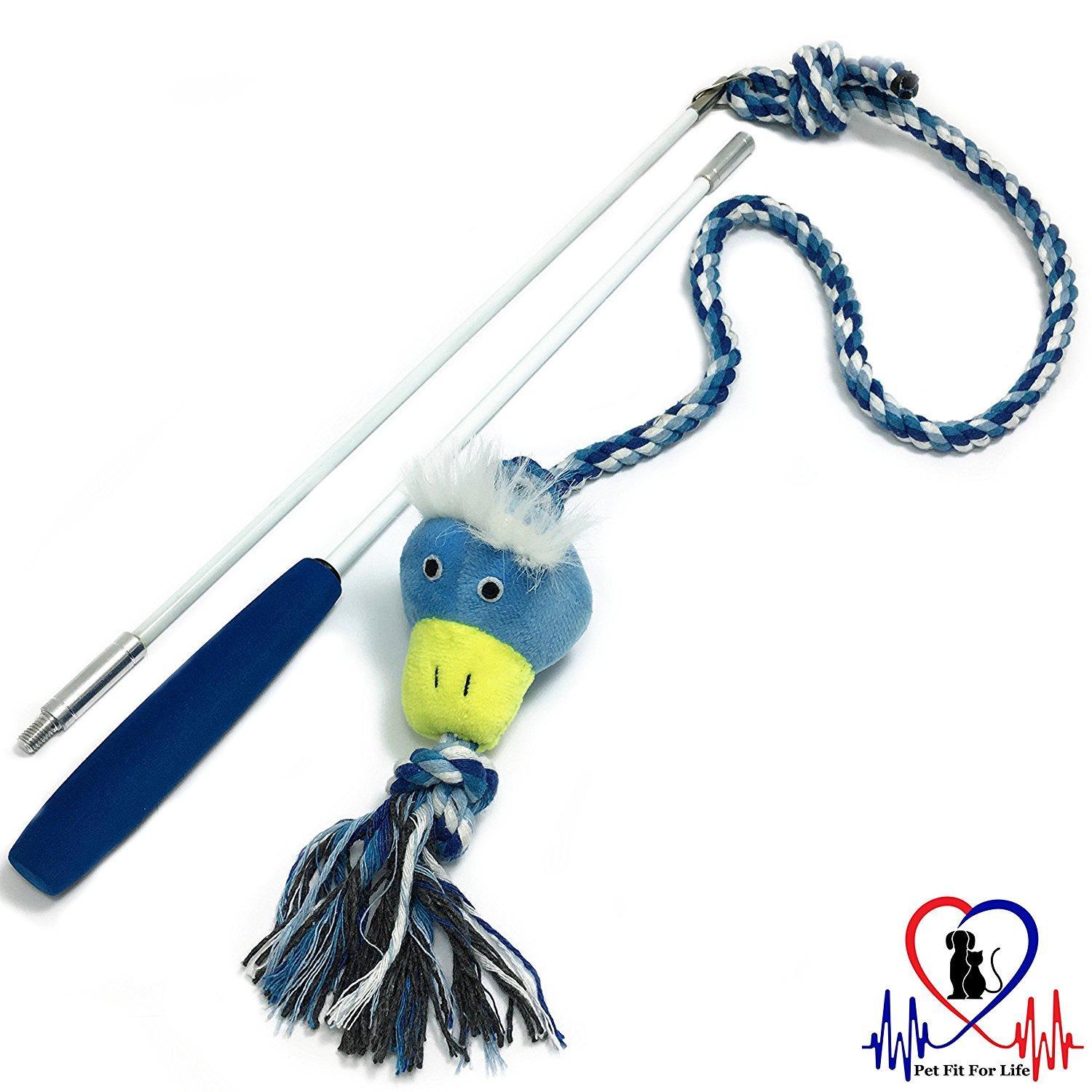 Summary
★ NEW FROM PET FIT FOR LIFE – Plush Duck Squeaky Dog/Puppy Wand Rope Tug of War Toy. Unique and fun design brings numerous interactive fun for Fido and you!
★ EXTRA LONG, EXTRA STRONG FLEXIBLE WAND. Our wand is a full 31 inches long. Twice as long as most dog wands. We listened to our customers and gave them what they wanted. A longer wand with more flexibility and super strong 31 inch rope bring numerous fun for your dog and you!
★ NEVER ENDING FUN – The only way to keep your dog fit is to keep them engaged. The Pet Fit For Life Dog Wand is the perfect toy to make that happen. Bond with your puppy or build your relationship with your older dog, this is the toy to get and keep them entertained and energetic!!
Description
Product Features
• Extra long 31 inch wand made of flexible, indestructible, non-toxic, polycarbonate
• Plush, squeaky duck toy included. Irresistible to your dog or puppy
• Strong, extra long, 31 inch double braided rope for extra bounce and fun
• Light weight but durable
Read a book or watch T.V. while you entertain and pastime your little bundle of energy. Great for dogs, young and historical. Keeps them fit and energetic. Your dog won't be in a position to resist chasing this wand around the house. Great value and great product. You can't go wrong with the Interactive Plush Duck Dog teaser/wand from Pet Fit For Life.
Click *Add To Cart* above…Get your dog on the road to fitness. Get your new dog wand today!!