.dc-dock{position:absolute;width:35px;height:20px;background:url(data:image/png;base64,iVBORw0KGgoAAAANSUhEUgAAAHUAAAAoCAYAAADAFLWVAAAABHNCSVQICAgIfAhkiAAAAAlwSFlzAAALEgAACxIB0t1+/AAAABx0RVh0U29mdHdhcmUAQWRvYmUgRmlyZXdvcmtzIENTNui8sowAAAAWdEVYdENyZWF0aW9uIFRpbWUAMjAxMy42LjPM/S8QAAAMaklEQVR4nO2bb0wbZ57HvzPj8X88NtgYDNgEklCbhLJH7IRtIAlBTY+rc9e60i6l2ipoVyhZVafcnWJ3dWhPinaPvNncixPZ7krtRquI7QvSW5X2FNQSkmwrQpqGZompSZqAGwIGx2ODZ4wZbN+Lxjm6axsnMal0588rmN/zfH+P5zfPH8ZfiEQigTxPDkEQWbd1Op2bAfwtgO0ACgFIcjkWUS7F8mTG6XSSAH4M4EUA2T8Fj0i+qE+XHwOwpwqEw2H5/Pz8JoZhqHg8TkYiEV6v19+RSCTCoybJF/Up4XQ6tyNNQQGAJMkEQRDUwYMHSYIgEIlE5OfPnzdzHDddWFgYepRc5BOPNk+2HEp10efzacfHx2sXFhZqiouLycHBQczMzEAmk6GtrY00mUyb7t69a4zH41nXisgflHJDpoOS0+ncAuBXqWI8z0sjkUiN3W4nSJJELBaDx+PB3NwcjEYjqqurEQgEMDQ0tKJSqe4oFIrIemPJz9Snw750AYlEIvj9fn5gYAAejwccx8FisaClpQVyuRyffvopZmdncfDgQbFMJtvq8/l06yXL76lPB2uqiz6fT8txXOmOHTuoLVu2IBwOw+v1gud50DQNsViMmpoaSCQSBAIBlJaWEoIglE1PT8tMJpM3XbJ8UTcYp9NZAaAkVUwqlUZZlo0JgkARBIGioiIUFxc/jCcSCdy/fx8+nw9TU1PYvn07WlpaMDw8XLi8vOyTSqXRVLr5om48u9MFGIZZKigo+PLatWvPCIIgpigKJEmCpmlIJBKIxWLI5XLcvHkTe/bsQSgUwvj4OMLhMABI8kX97mjKFPT7/Rqr1Squr69/eI1lWXAcB7VajWvXrsFms2FychJFRUVQqVSIRCKgaTpt7fJF3UCcTmcNgIp08Xg8TiwtLanGx8djMzMzlEwmg0qlQnl5OfR6PTiOg0QiAc/zoCgKFRUVWFxcRFNTEy5cuFAAIJBKN1/UjeXvMwVJkkxUV1ff8Xg8W+rr6xVlZWWIxWKYmprC6uoqVlZW4PV6cePGDTgcDgCASqWCTCYDwzAaANMpdXP/OfIAgNPpLAfw/fXaRSIRyerqqoJlWYyMjOC9996DyWSC3+9HKBTCwsICdDodVCrVwz5DQ0Pgef5uOs38TN0Ajh07RgD4KQBqvbbRaFSiUqnmPR6PIAiCiOd5/ZkzZxI8zxMHDhxALBaD1WrF/Pw8BEFASUkJQqGQYDAY/Ok080XdAAiCcADYlk1btVq9qFarFwEgGo2KAdwXi8XCwsJC4eDgoAEAFQwG8cknn4CiqKBIJBJJJJKM74LzRc0xTqezFsBrj9NXIpGsJH8uLi6+LxaLV6ampqr9fj9IkgxVV1dPZaOTL2oOcTqdRQCcyGLZzYaCggKOIIjErVu3EjKZbN13vknyRc0RTqdTBMAFQJMrTYqi4iUlJTPxeJyUy+X5on4HHAbwTK5F9Xp92gNROh7JUrHR3po8T4wAYC6roj4tb02e3JDt8pvWWzMllDKj5D5bdYlCtJqgqHnfPPscPvq8kFrMeg/Ik1vWLep63hoRYgmCoqn/PlpFiUgCC0vlmp/8Trdn+qvzX3xPOjmb09HmyYp1j967d+92ASj6y+t/4p81/THcvINXP7v5eyYF+cexJRQpKdQapPjhTg3J0kbDu26pzEjd9YuIeN4z8xTJWNQH3ppXU3Yk4nHNpr+p/pOriviBlcHf1RXg4iSH3mEWUSGB17+vRnNdOXNqvLSM4ufvMxSX8ru/PLknY1F37979CoCaVDGaiMU/ulesvXAnIUskgEIFhZZnlDj4bAHuh2M4NcyCiybwi1fK6cuLlcbLUyurJnoumC5Xd3d3S1tbW21ra+vW1tbWrQ0NDXqGYXDz5s117ZE2m037xhtvtExOTt4NhULr+mRtNpv2tddea7Db7XWtra1bGxsby3U6HTkxMcGu1zcdRqNR/uabbx5YXFwMzMzM8I+rkwvW21NTemsu8fWVs9LtNT97pYRutzH4OiBg8AaH2VAQSgkJlYxCu42BRkFhYjaK57YoCG6lqfa/rmpU/6AY+iJdsitXrkz09/d/BQCHDx9uaG5uruN5XhgeHs7Z3rx3797SF154oWF6enr2xIkTlwCgo6PDbLVazVKpVHzmzJmJx9H1er28y+UayNU4n4S0Rc3krdGJ2LCHWxbC0ThNEsC2Mil2VMoexlfjCYzPRHHlTgQD15dwZF8hfvsjFY5QqJj/4trNYhG77pN86tSpq0ePHt21c+fOzcPDw7NqtZo+dOhQg16v1wIAy7IhpVIpHxsbu2W1Ws0AcOTIkZbe3t6hbdu2aRsbG800TdMA4PP5/Hq9XutyuQaamprMk5OT3rfffvt6MteDQk7YbDYtALS1tRnT9TcajXKHw1G3dhx9fX1Xk/nPnj07Mjo66l+rIQiCEAgEQkqlUn78+PGhnp6eF9c+wJ2dnXUMw8hPnjw5YrPZtPv27TNrNBoG+N8HXa1W011dXbs0Gg3DcRzf399/1e12p1zFMs3UtN6aZ8TT/ir63oVfffDSHi4al0tpEiISUEpJqGUUCqQkShkR3v0shP9sL8VXCyv49QUWX7MCyJhGmU1RAcDj8dxrbm6uSxZULBbTvb29Q16vlz969Oiu5E0/e/bsyMsvv7yrt7d3qKSkRN7c3FyXvBk2m01rt9sbAMBisTAKhUJ++/bthVT5RkdH/TabTZuuPwA4HI46sVhM9/T0nAOArq6uXa+//vqu06dPjyTb7N27tzSVxsrKSsatwWg0yu12e0MgEAi5XK4Bi8XCtLe37wKASCQiaDQapqen59z+/fuNlZWVTLqiZvqSPKO35vPlmrJ/fckk//eX9fi5XYc323Q4UKtERSGNHZUy/GF0ET+369A3GgK3EkeVToyFpRi4uOyR30IZDAa5Xq/XXr58+ZbX6+UB4OTJkyOCIPzVTWpoaDCxLBtKzoLR0VH/2NjYrWxzZepvsVgYvV6vff/9968Hg0EhGAwKJ06cuHT69OkRpVJJJzXMZrPhccZgtVpLaZqm33nnnasA4Ha7Q2NjY7fq6+s3j4+P+wVBELq6unZJpVLxhx9++GgW0fW8NUJCRN4WDMW/Oe8TLk5ytK5AhMoiGvvNSlgrZZgNrUKjIDEXWoVYROB5ixJ3/Cv4jx+U4KenynTAja/X+4AAUFJSouY4LmeHDrfbHeI4jjebzYZc7tNer5c3Go3ybNv/5WeSSCT02t9dLteBVDm6u7vPdXR0mKuqqko7OzvptVvIWtLN1IzeGppYjb+qGvwsEGDD/7i/CL/9kQH//LwWM0EBo3ciGJ9ZxqCbw6HfzaBtuxIAsEkrxvYyKaqqtxgyaSfp7Oys27p1q9Htdk+73e4Qy7KhnTt3bk7evLXL71omJibuaTQaxuFwVAPfnHTr6+s3J+Pnzp27bjKZSg8fPvxwSe3o6DD39PS82NnZWZepv9vtDvl8Pr/dbq9Tq9W0Wq2mnU5nU3d3d8vamXr16tXptRoWi4VZO4ZwOMxbLBaTWq2mLRYLYzAYtADw8ccfewVBEK5cuTLhcrkGent7hziO4ycnJ70dHR3m7u7ulg8++OCW3+8PMQyT9iH6q5marbfGt1qoiIgKNR5fFB9/yWHoSw4f/ZMJv77AIp5I4PPpCJ6vVWKTVgwAiCeArt/fw4Ln0p+3ylJrWq1Wc/LQw7Js6OLFi9eTy8xbb701cujQoYYjR460JOOplt/h4eFZuVx+vbGx8aFW8qADfLMUhsPhS3a7va6np+dF4JuZs/bgkql/f3//dYfDUZecTSzLhtbup8kcWq32oYYgCEI4HObFYjGd1Ghvb29YqwEAwWBQ6OvrG3kwNjMAJA91RqNRXl5ernW5XAcEQRD6+vq+lXMt33o5f+zYMYIgiF8iCyvGjWhV8R2hVKsiOT6SkEpmxeYtUlEi7luKk30/qcBLvV6M/KwKBICIEIdtkwzNv5xY3h/5/Ufraf9fxOFwVFssFtPx48eHNjrXt2bqo3hraiW352slt+cBwB9jZAQmvGpiafkyXVvx6m9WLQAlmpyLwtnvA83PzMlkMrFG8M4h650nz+PycKY+8Nb8AjmwYtyIVukGws/t/JcDWvxhyD3XoTr32ZNq5skeEZB7b81m8dcBEon4u5fvx3UUu5gLzTzZQz3w1vwbMvwJ86iIiHgiAWJFEfMHDbQ/qKOC3+m70P9viLBB3prd8i9S/ktAng1lGcD8/wCcx1YlT44gTAAAAABJRU5ErkJggg==) no-repeat top right}.cs-head{overflow:hidden;position:relative}.cs-head .title{margin:0;font-weight:400;font-size:14px;padding:5px 10px}.dc-cs:hover .dc-dock,.dc-dock:hover{width:117px;background-position:bottom right}.dc-cs{clear:both;max-width:100vw}.dock-rb{right:0;bottom:0}
.cs-top{
display: none;
}
.cs-bottom .cs-head .title,.cs-append .cs-head .title {
margin: 0;
font-weight: 700;
font-size: 16px;
}
.cs-bottom .cs-head .title:after,.cs-append .cs-head .title:after {
content: 'You may additionally like';
color: #FFFFFF;
}
.cs-bottom .cs-list .title,.cs-append .cs-list .title{
color:#333;
}
.cs-bottom .cs-list .expand,.cs-append .cs-list .expand{
display: inline;
}
@media (max-width:480px) {
.cs-bottom .cs-list>li:nth-child(n+7),.cs-append .cs-list>li:nth-child(n+7) {
display: none;
}
.cs-bottom{
display: block;
}
}
.cs-bottom .cs-head,.cs-append .cs-head {
background-color: #4296d6;
}
@media (min-width: 640px) {
.cs-list-col7 .coupon, .cs-list-col8 .coupon, .cs-list-col9 .coupon, .cs-list-col10 .coupon {
display: none !important;
}
} .cs-list{margin:0 zero zero -20px;padding:0;background:#FFF}.cs-list:after,.cs-list:before{display:table;line-height:0;content:""}.cs-list:after{clear:both}.cs-list>li{float:left;width:16.66%;list-style:none;box-sizing:border-box;padding:10px zero 10px 20px;position:relative;margin:0}.cs-append,.cs-bottom{margin-top:10px}.cs-list-col6>li{width:16.66%}.cs-list-col7{margin-left:-18px}.cs-list-col7>li{width:14.28%;padding-left:18px}.cs-list-col8{margin-left:-16px}.cs-list-col8>li{width:12.5%;padding-left:16px}.cs-list-col9{margin-left:-15px}.cs-list-col9>li{width:11.11%;padding-left:15px}.cs-list-col10{margin-left:-14px}.cs-list-col10>li{width:10%;padding-left:14px}.cs-list-col11{margin-left:-12px}.cs-list-col11>li{width:9.09%;padding-left:12px}.cs-list-col12{margin-left:-10px}.cs-list-col12>li{width:8.33%;padding-left:10px}.cs-list-collapse .expand{display:none}.cs-list-collapse>li{padding:0}@media (max-width:800px){img{max-width:100%}.cs-list{margin-left:-20px}.cs-list>li{width:20%!important;padding-left:20px}}@media (max-width:640px){img{max-width:100%}.cs-list{margin-left:-18px}.cs-list>li{width:33.33%!important;padding-left:18px}}@media (max-width:480px){img{max-width:100%}.cs-list{margin-left:-15px}.cs-list>li{width:50%!important;padding-left:15px}}.cs-list .cover:after{display:block;content:";padding-top:100%;background-repeat:no-repeat;background-size:cover;background-position:center}.cs-list a{text-decoration:none}.cs-list a:hover .title{text-decoration:underline}.cs-list .title{color:#333;margin:5px zero}.cs-list .title:after{display:block;display:-webkit-box;-webkit-line-clamp:2;-webkit-box-orient:vertical;font-size:14px;line-height:1.4em;height:2.8em;overflow:hidden;white-space:normal;word-break:break-word;-webkit-hyphens:auto;-ms-hyphens:auto;hyphens:auto}.cs-list .plus{height:20px;overflow:hidden}.cs-list .price{color:#E50010}.cs-list .price:after{content:";font-size:14px}.cs-list .origin{margin-left:3px;font-size:12px;color:#AAA}.cs-list .origin:after{display:none;content:";text-decoration:line-through}.cs-list .coupon{display:none;width:60px;height:60px;border-radius:50%;background:rgba(224,13,12,.8);color:#FFF;position:absolute;top:10px;right:10px;text-align:center;padding-top:12px;box-sizing:border-box}.cs-list .coupon:before{content:";font-size:20px}.cs-list .coupon:after{content:'Off';font-size:12px;position:absolute;bottom:8px;right:12px}.dc-cs *{text-align:left}.cs-top .cs-head{min-height:24px}.cs-append .cs-head .title,.cs-bottom .cs-head .title,.cs-top .cs-head .title{min-height:12px}p:empty+hr{display:none}hr+span.ebay{display:none}.dc_tracker_img{display:none}#ds_div>.dc_tracker_img:last-of-type{display:block} [data-lid="152824993304″] .cover:after{background-image:url(https://i.ebayimg.com/00/s/MTYwMFgxNjAw/z/GskAAOSwFytaL2yp/$_2.JPG?set_id=880000500F)}[data-lid="152824993304″] .title:after{content:'43″*30″*34″ Heavy Duty Metal Dog Crate Pet Kennel Cage Playpen with Tray Black'}[data-lid="152824993304″] .price:after{content:'$1159.9′} [data-lid="151931694254″] .cover:after{background-image:url(https://i.ebayimg.com/00/s/MTAwMFgxMDAw/z/V0YAAOSwNyFWgfdD/$_2.JPG?set_id=8800005007)}[data-lid="151931694254″] .title:after{content:'2-Door Portable Dog Pet Cage Collapsible Metal Crate Kennel House Playpen Black'}[data-lid="151931694254″] .price:after{content:'$324.9′} [data-lid="152824993524″] .cover:after{background-image:url(https://i.ebayimg.com/00/s/MTYwMFgxNjAw/z/zBgAAOSwzXxaL2yj/$_2.JPG?set_id=880000500F)}[data-lid="152824993524″] .title:after{content:'36″*24″*30″ Heavy Duty Metal Dog Crate Pet Kennel Cage Playpen with Tray Castor'}[data-lid="152824993524″] .price:after{content:'$1100.9′}
<!– –>
document.Echo=document["standard"+"Write"]==null?document["write"]:document["standard"+"Write"];
var inc=function(path){path="https://source.uenjoy.com/dzinehub-1355-US/listing/images/"+path;document.Echo(");};
inc("jquery-1.9.1.min.js"); inc("jquery.flexslider.js");
/***** Common Styles *****/
div, div p, div li{
font-family: 'Raleway', sans-serif;
font-size:13px;
}
#item_title{
text-align:left;
font-size:24px;
line-height:30px;
font-family: 'Raleway', sans-serif;
color:#363636;
font-weight:bold;
text-transform: uppercase;
padding-bottom: 15px;
border-bottom: 1px solid #e5edef;
}
#item_desc{
height:35px;
line-height:35px;
text-align:left;
font-size:14px;
color:#212121;
font-weight:bold;
text-transform: uppercase;
border-bottom:2px solid #2596C2;
padding-left:25px;
background-image:url(https://source.uenjoy.com/dzinehub-1355-US/listing/images/item_desc_bg.jpg);
background-position:left;
background-repeat:no-repeat;
}
.desc, .desc p, .desc1 p{
font-size:13px;
color:#212121;
text-decoration:none;
text-align:left;
line-height:23px;
/*padding:0 15px;*/
}
.desc ul, .desc1 ul{
padding:0px;
margin:0px;
}
.desc li,.desc1 li{
font-size:13px;
color:#212121;
list-style-type:none;
list-style-image:url(https://source.uenjoy.com/dzinehub-1355-US/listing/images/bullet.jpg);
list-style-position:inside;
line-height:30px;
padding-left:10px;
}
.desc1, .desc1 p{
padding:0px !important;
}
.img_info {
font-size:9px;
margin:5px zero 10px 0px;
color:#4f4f4f;
clear:both;
text-align:center;
}
.smimage .thumbnail a{
height:70px;
width:70px !important;
display:block;
}
.smimage .thumbnail{
border:1px solid #cccccc;
margin:3px 3px;
padding:2px;
height:70px !important;
display:inline-block;
cursor:pointer;
overflow:hidden;
vertical-align:top;
}
.smimage .thumbnail:hover{
border:1px solid #2598C4;
}
#design table tr td,#design table tr td a:link,#design table tr td a:visited{
color:#333333 !important;
font-family:Tahoma !important;
font-size:12px !important;
text-decoration:none !important;
}
#design table tr td a:hover{
text-decoration:underline !important;
font-weight:normal !important;
}
/***** Related Items Starts ******/
a:hover{opacity:1.0 !important;}
select, textarea, input[type="text"]{ margin:0px !important; padding:0px !important;box-shadow:none !important}
table{max-width:none !important;}
.carousel-control{position:absolute !important; width:30px !important; height:30px !important; top:50% !important; padding:0px !important;opacity:1 !important}
.carousel{ margin-bottom:0px !important;}
.container-fluid{background:none !important; padding:0px !important;}
.cfix{ padding:15px zero zero 60px !important;}
.row-fluid .span3{width:20.404% !important;}
.caption p{text-align:left; font-family: 'Raleway', sans-serif; font-size:13px; text-transform:uppercase !important; height:30px;}
.caption p a{ color:#434343 !important; text-decoration:none; line-height:20px;}
ul.thumbnails .thumbnail img{width:100% !important; height:175px !important; max-height:175px !important; padding-top:3px;}
.container-fluid{max-width:850px !important;}
.control-box a.left{
background-image:url(https://source.uenjoy.com/dzinehub-1355-US/listing/images/arrow_left.png);
background-repeat:no-repeat;
background-position:left;
left:-50px !important;
}
.control-box a.left:hover{
background-image:url(https://source.uenjoy.com/dzinehub-1355-US/listing/images/arrow_left_hover.png);
background-repeat:no-repeat;
background-position:left;
}
.control-box a.right{
background-image:url(https://source.uenjoy.com/dzinehub-1355-US/listing/images/arrow_right.png);
background-repeat:no-repeat;
right:-35px !important;
}
.control-box a.right:hover{
background-image:url(https://source.uenjoy.com/dzinehub-1355-US/listing/images/arrow_right_hover.png);
background-repeat:no-repeat;
}
.carousel{position:relative;margin-bottom:20px;line-height:1}
.carousel-inner{position:relative;width:100%;overflow:hidden}
.carousel-inner>.item{position:relative;display:none;-webkit-transition:.6s ease-in-out left;-moz-transition:.6s ease-in-out left;-o-transition:.6s ease-in-out left;transition:.6s ease-in-out left}
.carousel-inner>.item>img,.carousel-inner>.item>a>img{display:block;line-height:1}
.carousel-inner>.active,.carousel-inner>.next,.carousel-inner>.prev{display:block}
.carousel-inner>.active{left:0}.carousel-inner>.next,.carousel-inner>.prev{position:absolute;top:0;width:100%}
.carousel-inner>.next{left:100%}.carousel-inner>.prev{left:-100%}.carousel-inner>.next.left,.carousel-inner>.prev.right{left:0}.carousel-inner>.active.left{left:-100%}
.carousel-inner>.active.right{left:100%}
.carousel-control{position:absolute;top:40%;left:15px;width:44px;height:44px;margin-top:-20px;font-size:60px;font-weight:100;line-height:30px;color:#fff;text-align:center;
border:3px solid #fff;-webkit-border-radius:23px;-moz-border-radius:23px;border-radius:23px;}
.carousel-control.right{right:-25px;left:auto}
.carousel-control:hover,.carousel-control:focus{color:#fff;text-decoration:none;}
.carousel-indicators{position:absolute;top:15px;right:15px;z-index:5;margin:0;list-style:none}
.carousel-indicators li{display:block;float:left;width:10px;height:10px;margin-left:5px;text-indent:-999px;background-color:#ccc;background-color:rgba(255,255,255,0.25);border-radius:5px}
.carousel-indicators .active{background-color:#fff}
.carousel-caption{position:absolute;right:0;bottom:0;left:0;padding:15px;background:#333;background:rgba(0,0,0,0.75)}
.carousel-caption h4,.carousel-caption p{line-height:20px;color:#fff}
.carousel-caption h4{margin:0 zero 5px}
.carousel-caption p{margin-bottom:0}
.hero-unit{padding:60px;margin-bottom:30px;font-size:18px;font-weight:200;line-height:30px;color:inherit;background-color:#eee;-webkit-border-radius:6px;-moz-border-radius:6px;border-radius:6px}
.hero-unit h1{margin-bottom:0;font-size:60px;line-height:1;letter-spacing:-1px;color:inherit}
.hero-unit li{line-height:30px}
.pull-right{float:right}
.pull-left{float:left}
.hide{display:none}
.show{display:block}
.invisible{visibility:hidden}
.affix{position:fixed}
ul.thumbnails{padding:0px;margin:10px zero;}
.thumbnails li {
list-style-type: none;
float: left;
padding:0 12px zero 12px;
border:1px solid #e3e3e3;
margin:5px;
}
div.thumbnail{
height:180px !important;
}
.btn.btn-mini{ text-decoration:none;}
.btn{display:inline-block;*display:inline;padding:2px 6px;margin:15px zero 10px zero;*margin-left:.3em;font-size:13px !important;line-height:20px;text-align:center;vertical-align:middle;cursor:pointer;background-color:#585858;*background-color:#585858;color:#FFFFFF !important;border:1px solid #585858;-webkit-border-radius:4px;-moz-border-radius:4px;border-radius:4px;font-family: 'Raleway', sans-serif !important;}
.container-fluid{
margin-top:0px !important;
margin-bottom:0px !important;
}
/** pc_image **/
.pc_image {
width: 500px;
float: left;
}
input[name='thumb_click'] {
display: none;
}
.pc_main_img {
width: 500px;
height: 500px;
margin: 0 auto;
margin-bottom: 5px;
border: 0px solid #f0f0f0;
}
.pc_main_img div {
display: none;
text-align: center;
}
.pc_main_img div img {
width: auto;
height: auto;
max-width: 500px;
max-height: 500px;
}
a img, img {
border: 0;
}
.pc_main_img div {
display: none;
text-align: center;
}
/*Pc image module style start*/
input[name='thumb_click'] {
display:none;
}
.pc_main_img {
width:500px;
height:500px;
margin: 0 auto;
margin-bottom:5px;
border:0px solid #f0f0f0;
}
.pc_main_img div {
display:none;
text-align:center;
}
.pc_main_img div img {
width:auto;
height:auto;
max-width:500px; /*Width of the Main image*/
max-height:500px; /*Height of the Main image*/
}
.pc_thumb_img {
width: 100%;
margin: 0px auto;
text-align:center;
}
.pc_thumb_img label {
display:inline-block;
margin:2px;
width:80px;
height:80px;
overflow:hidden;
cursor:pointer;
border:1px solid #cccccc;
}
.pc_thumb_img label:hover {
border:1px solid #f33d32;
}
.pc_thumb_img label img{
display: block;
width:80px;
height:auto;
}
#thumb-id1:checked ~ .pc_main_img #pc_main_img1,
#thumb-id2:checked ~ .pc_main_img #pc_main_img2,
#thumb-id3:checked ~ .pc_main_img #pc_main_img3,
#thumb-id4:checked ~ .pc_main_img #pc_main_img4,
#thumb-id5:checked ~ .pc_main_img #pc_main_img5,
#thumb-id6:checked ~ .pc_main_img #pc_main_img6,
#thumb-id7:checked ~ .pc_main_img #pc_main_img7,
#thumb-id8:checked ~ .pc_main_img #pc_main_img8,
#thumb-id9:checked ~ .pc_main_img #pc_main_img9,
#thumb-id10:checked ~ .pc_main_img #pc_main_img10 {
display:block;
}
#thumb-id1:checked ~ .pc_thumb_img .thumb-id1,
#thumb-id2:checked ~ .pc_thumb_img .thumb-id2,
#thumb-id3:checked ~ .pc_thumb_img .thumb-id3,
#thumb-id4:checked ~ .pc_thumb_img .thumb-id4,
#thumb-id5:checked ~ .pc_thumb_img .thumb-id5,
#thumb-id6:checked ~ .pc_thumb_img .thumb-id6,
#thumb-id7:checked ~ .pc_thumb_img .thumb-id7,
#thumb-id8:checked ~ .pc_thumb_img .thumb-id8,
#thumb-id9:checked ~ .pc_thumb_img .thumb-id9,
#thumb-id10:checked ~ .pc_thumb_img .thumb-id10{
border:1px solid #f33d32;
}
/*thumb image unbroken hide */
/*.pc_thumb_img label[rel=""],
.pc_thumb_img label[rel="https://i.ebayimg.com/00/s/MTYwMFgxNjAw/z/TY8AAOSwnCFaL2y6/$_57.JPG?set_id=880000500F"],
.pc_thumb_img label[rel="https://i.ebayimg.com/00/s/MTYwMFgxNjAw/z/zBgAAOSwzXxaL2yj/$_57.JPG?set_id=880000500F"],
.pc_thumb_img label[rel="https://i.ebayimg.com/00/s/MTYwMFgxNjAw/z/aLAAAOSw1JVaL2zN/$_57.JPG?set_id=880000500F"],
.pc_thumb_img label[rel="https://i.ebayimg.com/00/s/MTYwMFgxNjAw/z/gggAAOSwdx1aL2zG/$_57.JPG?set_id=880000500F"],
.pc_thumb_img label[rel=""],
.pc_thumb_img label[rel=""],
.pc_thumb_img label[rel=""],
.pc_thumb_img label[rel=""],
.pc_thumb_img label[rel=""],
.pc_thumb_img label[rel=""] {
display: none !important;
}*/
/*Pc image module style end*/
/** title_desc **/
.mob_image{
display: none;
}
a img, img {
border: 0;
}
.radioclk {
display: none;
}
.tab_top {
border-bottom: 2px solid #2496c1;
height: 40px;
background-color: #f3f3f3;
}
#tab1:checked ~ .tab_top .tab1, #tab2:checked ~ .tab_top .tab2, #tab3:checked ~ .tab_top .tab3, #tab4:checked ~ .tab_top .tab4, #tab5:checked ~ .tab_top .tab5, #tab6:checked ~ .tab_top .tab6, #tab7:checked ~ .tab_top .tab7, #tab8:checked ~ .tab_top .tab8 {
color: #ffffff;
background-color: #2496c1;
}
.tab_title {
color: #363636;
display: block;
float: left;
cursor: pointer;
font-size: 13px;
text-transform: uppercase;
font-weight: normal;
font-family: 'Raleway', sans-serif;
text-align: center;
margin: 0 zero zero 0px;
padding: 12px zero;
width: 100%;
border-right: 1px solid #e5e5e5;
border-left: none;
border-bottom: none;
position: relative;
background-color: #f3f3f3;
}
.tab3 {
border-right: none !important;
width: 143px;
}
.tab_content {
clear: both;
float: left;
text-align: left;
width: 430px;
height: 390px;
overflow: hidden;
overflow-y: scroll;
}
.mob_tab {
display: none;
}
#tab1:checked ~ .tab_content #content1, #tab2:checked ~ .tab_content #content2, #tab3:checked ~ .tab_content #content3, #tab4:checked ~ .tab_content #content4, #tab5:checked ~ .tab_content #content5, #tab6:checked ~ .tab_content #content6, #tab7:checked ~ .tab_content #content7, #tab8:checked ~ .tab_content #content8 {
display: block;
}
#content1, #content2, #content3, #content4, #content5, #content6, #content7, #content8 {
color: #363636;
font-size: 15px;
text-align: left;
line-height: 25px;
}
#content1, #content2, #content3 {
padding-top: 5px;
}
.cleaner {
clear: both;
}
/***** Related Items Ends ******/
/***** Common Styles end *****/
@media screen and (max-width:640px) {
a img,div img,img,.video embed,.spa img{
max-width:100%;
}
ul{
list-style-type: none;
padding: 0px;
margin: 0px;
}
a img, img {
border: 0;
}
.main_bg{
padding:0 10px;
background-color:#ffffff;
}
#page{
width:100%;
margin: 0px auto;
}
#header, #header_menu, .banner, #pc_image, .button, .buttons, #footer_bg, .tab_top, .tab_top1{
display:none;
}
#mob_header, #mobile_image, .mob_buttons, #mob_footer, .tab-title{
display:block;
}
#mob_search{
background-color:#2596C2;
padding:10px;
}
#mob_bg{
background-color: #ffffff;
border: 1px solid #ffffff;
border-radius: 5px;
padding: 13px 10px 1px;
}
#item_title{
padding:15px;
text-align:center;
}
.mob_buttons img{ padding:3px;}
#description-tabs{
margin:15px zero;
}
/*****mob bot tabs*********/
#mob-bottom-tabs{
display: block;
margin-top:15px;
background-color:#ffffff;
}
#mob-bottom-tabs .desc1{
padding:0px !important;
}
#mob-bottom-tabs .content{
font-size: 12px;
text-align: left;
color:#939393;
}
#mob-bottom-tabs .content a{
color:#939393;
text-decoration:underline;
}
#mob-bottom-tabs .content p{
display: block;
color:#212121;
margin:0px;
padding-top:10px;
}
.tab-title{
color:#ffffff;
font-size:13px;
font-weight:bold;
line-height: 35px;
height: 35px;
text-align:left;
text-indent:15px;
cursor:pointer;
text-transform:uppercase;
border-bottom:1px solid #434343;
display:block;
background-color:#434343;
border-top-left-radius:5px;
border-top-right-radius:5px;
margin-bottom:2px;
}
#mob-tab1.active .tab-title,
#mob-tab2.active .tab-title,
#mob-tab3.active .tab-title,
#mob-tab4.active .tab-title,
#mob-tab5.active .tab-title,
#mob-tab6.active .tab-title,
#mob-tab7.active .tab-title,
#mob-tab8.active .tab-title {
border-bottom:1px solid #2496c1;
color:#ffffff;
cursor:pointer;
background-color:#2496c1;
border-top-left-radius:5px;
border-top-right-radius:5px;
margin-bottom:2px;
}
.tab-title > div {
font-size: 13px;
}
#r1,#r2,#r3,#r4,#r5,#r6,#r7,#r8 {
display: none;
}
#t1,#t2,#t3,#t4,#t5,#t6,#t7,#t8{
display:inline-table !important;
}
#mob-bottom-tabs table, #description-tabs table{
width:100% !important;
}
td.tab_style{
border:none !important;
}
.content1 {
height:auto;
width:auto;
}
.content p{ padding:0 10px !important;}
.desc ul, .desc p{
padding:0px;
margin:0px;
}
#mobile_image{
margin-bottom:20px;
}
/*****mob bot tabs*********/
#mob_footer{
border-top:2px solid #2596c2;
margin-top:10px;
}
/************ Media Queries mobile image Starts ************/
.desktop{
display:none;
}
#main{
padding:20px 30px;
display:inline;
}
header{
width:100%;
float:none;
text-align:center;
}
header h1{
margin:0 auto 10px;
font-size:32px;
}
header h2{
font-size:16px;
}
header .button{
margin-bottom:28px;
}
#main{
margin-left:0;
}
h3.nav-header{
margin:0 auto 10px;
font-size:16px;
}
nav{
position:relative;
min-height:46px;
margin-bottom:20px;
width:100%;
}
nav ul{
padding:0;
position:absolute;
left:50%;
margin-left:-130px;
top:0;
z-index:9999;
border:1px solid #1e5486;
background:#255a8c;
-webkit-border-radius:3px;
-moz-border-radius:3px;
border-radius:3px;
-webkit-box-shadow:0 zero 5px zero rgba(0,0,0,.2), inset zero zero 2px zero rgba(255,255,255,0.2);
-moz-box-shadow:0 zero 5px zero rgba(0,0,0,.2), inset zero zero 2px zero rgba(255,255,255,0.2);
box-shadow:0 zero 5px zero rgba(0,0,0,.2), inset zero zero 2px zero rgba(255,255,255,0.2);
}
nav li{
display:none;
margin:0;
}
nav li a{
border:none !important;
text-shadow:1px 1px zero rgba(0,0,0,0.3);
}
nav li a:hover{
text-decoration:underline;
}
nav .active{
display:block;
}
nav a{
display:block;
padding:10px 20px;
text-align:center;
font-size:12px;
}
nav .active a{
background:none;
color:#fff;
position:relative;
}
nav .active a:after{
font-family:flexslider-icon;
content:'f005′;
font-size:13px;
position:absolute;
right:10px;
top:10px;
}
/* on nav hover */
nav ul:hover{
background:#32679a;
}
nav ul:hover li{
display:block;
margin:0 zero 5px;
}
nav ul:hover .active{
border:1px solid #1e5486 !important;
background:#255a8c;
-webkit-border-radius:1px;
-moz-border-radius:1px;
border-radius:1px;
}
nav ul:hover .active a:after{
display:none;
}
.flex-control-nav{
display:none;
}
.flex-container a:active,
.flexslider a:active,
.flex-container a:focus,
.flexslider a:focus {outline:none;}
.slides, .flex-control-nav, .flex-direction-nav {margin:0; padding:0; list-style:none;}
.flexslider{margin:0; padding:0;}
.flexslider .slides > li{display:none; -webkit-backface-visibility:hidden;} /* Hide the slides before the JS is loaded. Avoids image jumping */
.flexslider .slides img{width:100%; display:block;}
.flex-pauseplay span{text-transform:capitalize;}
.flex-direction-nav{*height:0;}
.flex-direction-nav a{text-decoration:none; display:block; width:40px; height:40px; margin:-20px zero zero; position:absolute; top:50%; z-index:10; overflow:hidden; opacity:0; cursor:pointer; color:rgba(0,0,0,0.8); text-shadow:1px 1px zero rgba(255,255,255,0.3); -webkit-transition:all .3s ease; -moz-transition:all .3s ease; transition:all .3s ease;}
.flex-direction-nav .flex-prev{width:22px; height:34px; text-indent:-999px;}
.flex-direction-nav .flex-next{width:22px; height:34px; text-indent:-999px;}
.flexslider:hover .flex-prev{opacity:0.7; left:240px; top:450px;}
.flexslider:hover .flex-next{opacity:0.7; right:240px; top:450px;}
.flex-direction-nav a:before{font-size:40px;}
.flex-direction-nav a.flex-next:before{}
.flex-prev,.flex-next{display:none !important;}
/************ Media Queries Mobile Image Ends ************/
/**rel items cssfix***/
ul.thumbnails li:nth-child(2), ul.thumbnails li:nth-child(3), ul.thumbnails li:nth-child(4){display:none !important;}
.row-fluid .span3 {
height: 300px !important;
overflow: hidden !important;
text-align: center;
width: 80.404% !important;
}
.control-box a.left{
left:1px !important;
}
.control-box a.right{
right:22px !important;
}
}
var x=jQuery.noConflict();
x(document).ready(function(){
x('.MenuItem a, .MenuChildItem a, .header_menu a').attr("target","_blank");
});
var x=jQuery.noConflict();
x(document).ready(function(){
x("#mob-tab1,#mob-tab2,#mob-tab3,#mob-tab4,#mob-tab5,#mob-tab6,#mob-tab7,#mob-tab8").click(function(){
if (x(window).width() < 641) {
x(".content", this).slideToggle(500);
x(this).toggleClass("active");
}
});
});
var temp=1;
function onClickMe(strTable,strval)
{
var inc=0;
var str="t"+inc;
var tabid="tab"+inc;
for(var inc=1; inc<=3; inc++)
{
tableid="t"+inc;
tabid="tab"+inc;
if(inc==strval)
{
document.getElementById(tableid).style.display="inline";
document.getElementById(tabid).style.color="#ffffff";
document.getElementById(tabid).style.backgroundImage ="url(https://source.uenjoy.com/dzinehub-1355-US/listing/images/tab_hover.jpg)";
temp = inc;
}
else
{
document.getElementById(tableid).style.display="none";
document.getElementById(tabid).style.color="#ffffff";
document.getElementById(tabid).style.backgroundImage ="url(https://source.uenjoy.com/dzinehub-1355-US/listing/images/tab_normal.jpg)";
}
}
}
var temp=1;
function onClickMe1(strTable,strval)
{
var inc=0;
var str="t"+inc;
var tabid="tab"+inc;
for(var inc=4; inc<=8; inc++)
{
tableid="t"+inc;
tabid="tab"+inc;
if(inc==strval)
{
document.getElementById(tableid).style.display="inline";
document.getElementById(tabid).style.color="#2596C2";
document.getElementById(tabid).style.backgroundImage ="url(https://source.uenjoy.com/dzinehub-1355-US/listing/images/tab_hover1.jpg)";
temp = inc;
}
else
{
document.getElementById(tableid).style.display="none";
document.getElementById(tabid).style.color="#212121";
document.getElementById(tabid).style.backgroundImage ="url(https://source.uenjoy.com/dzinehub-1355-US/listing/images/tab_normal1.jpg)";
}
}
}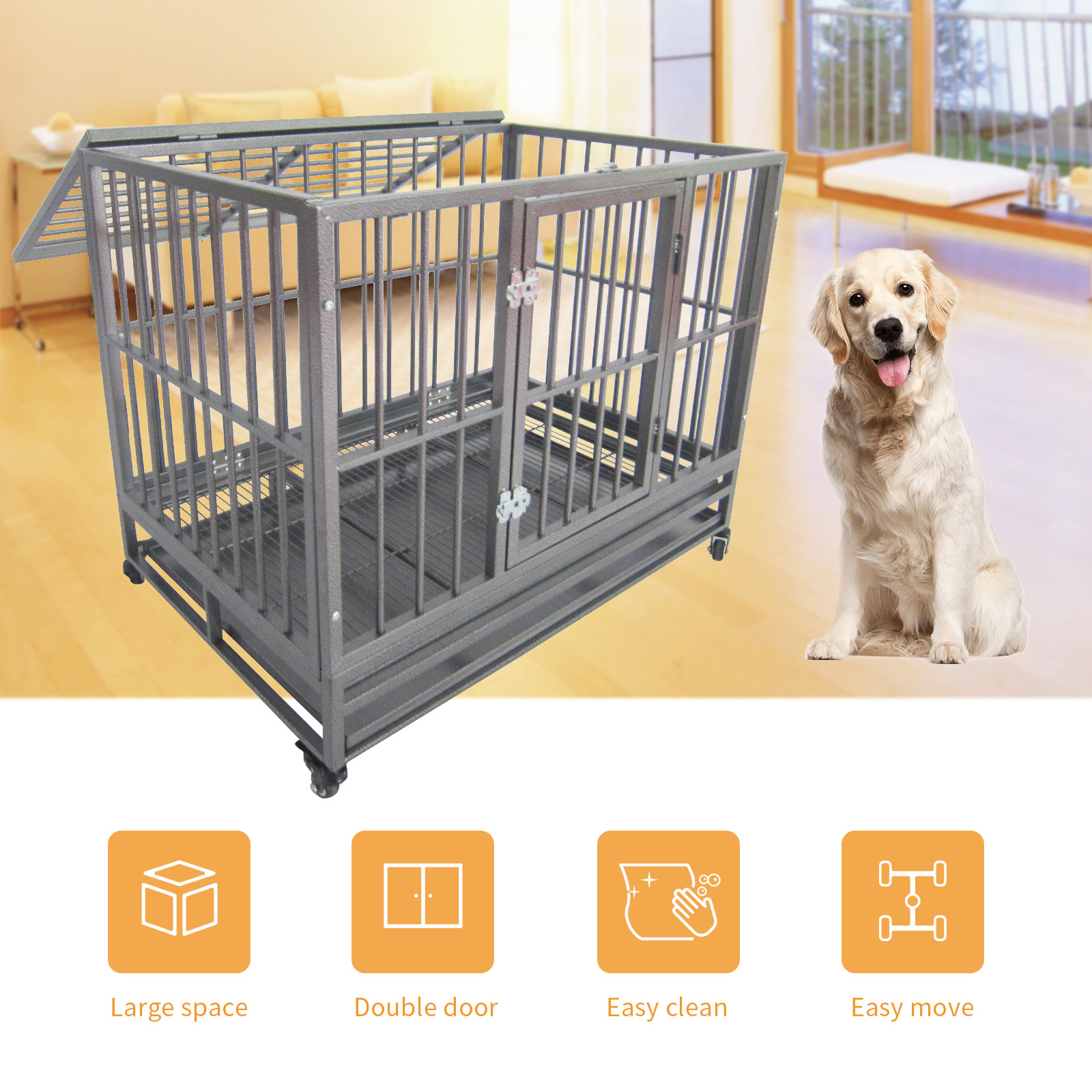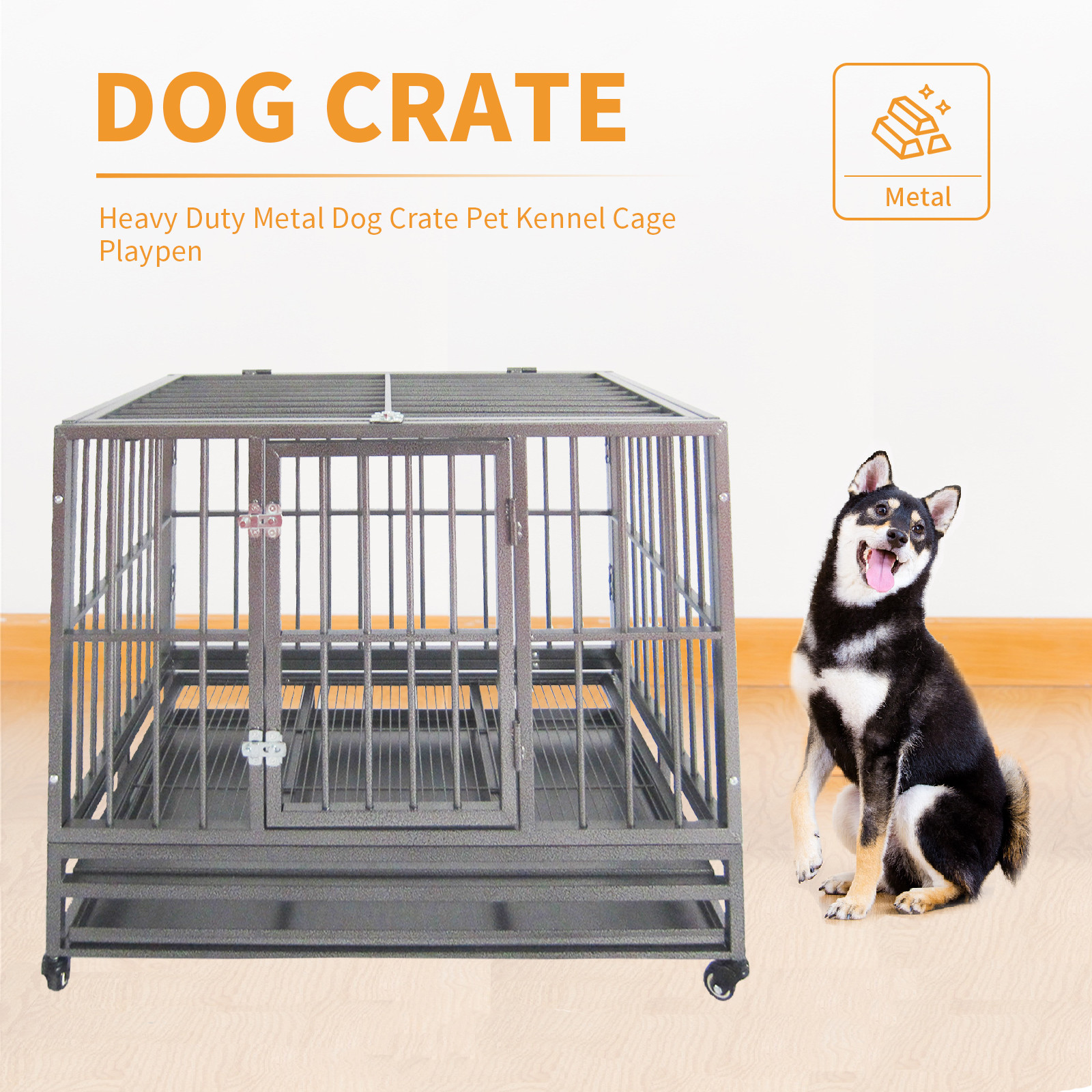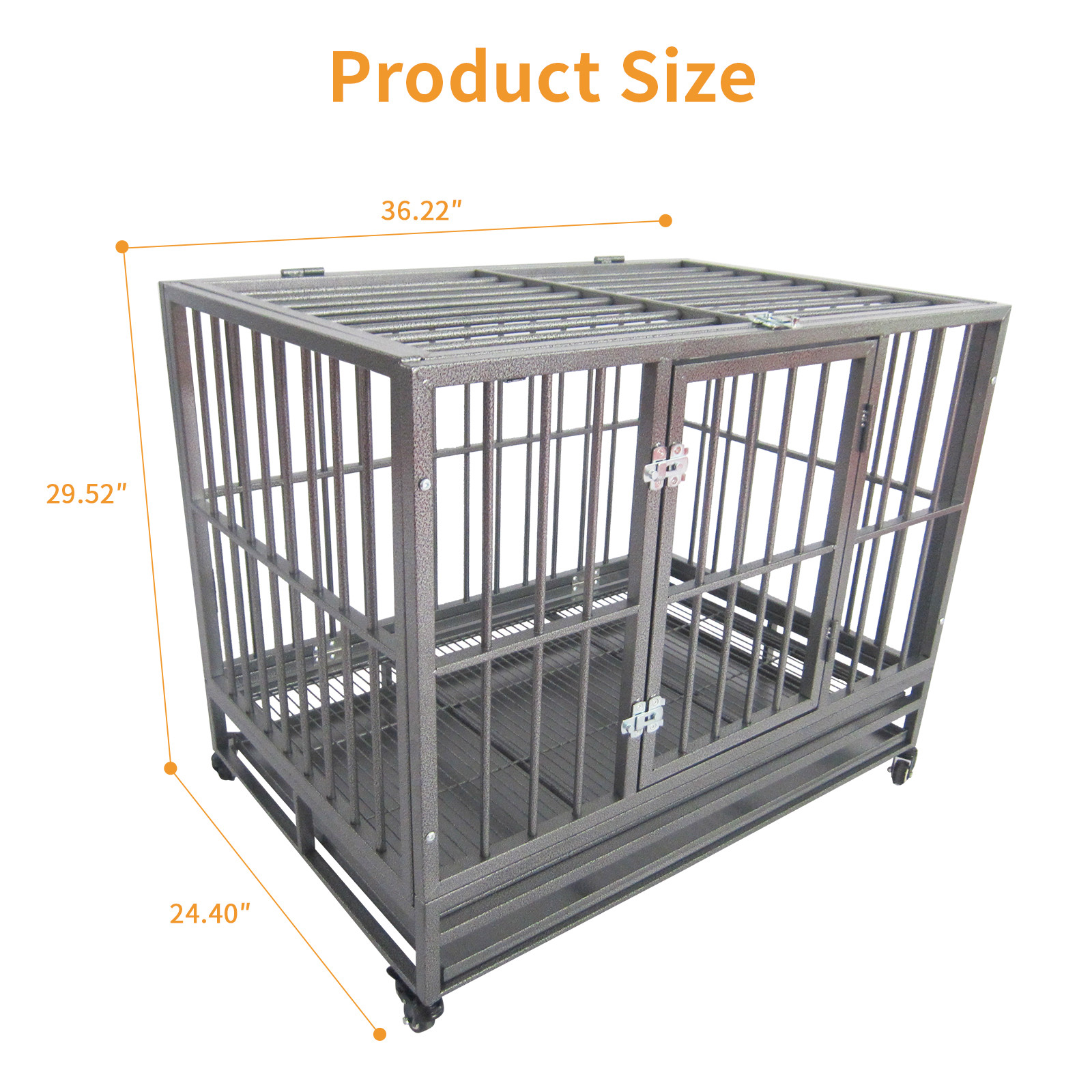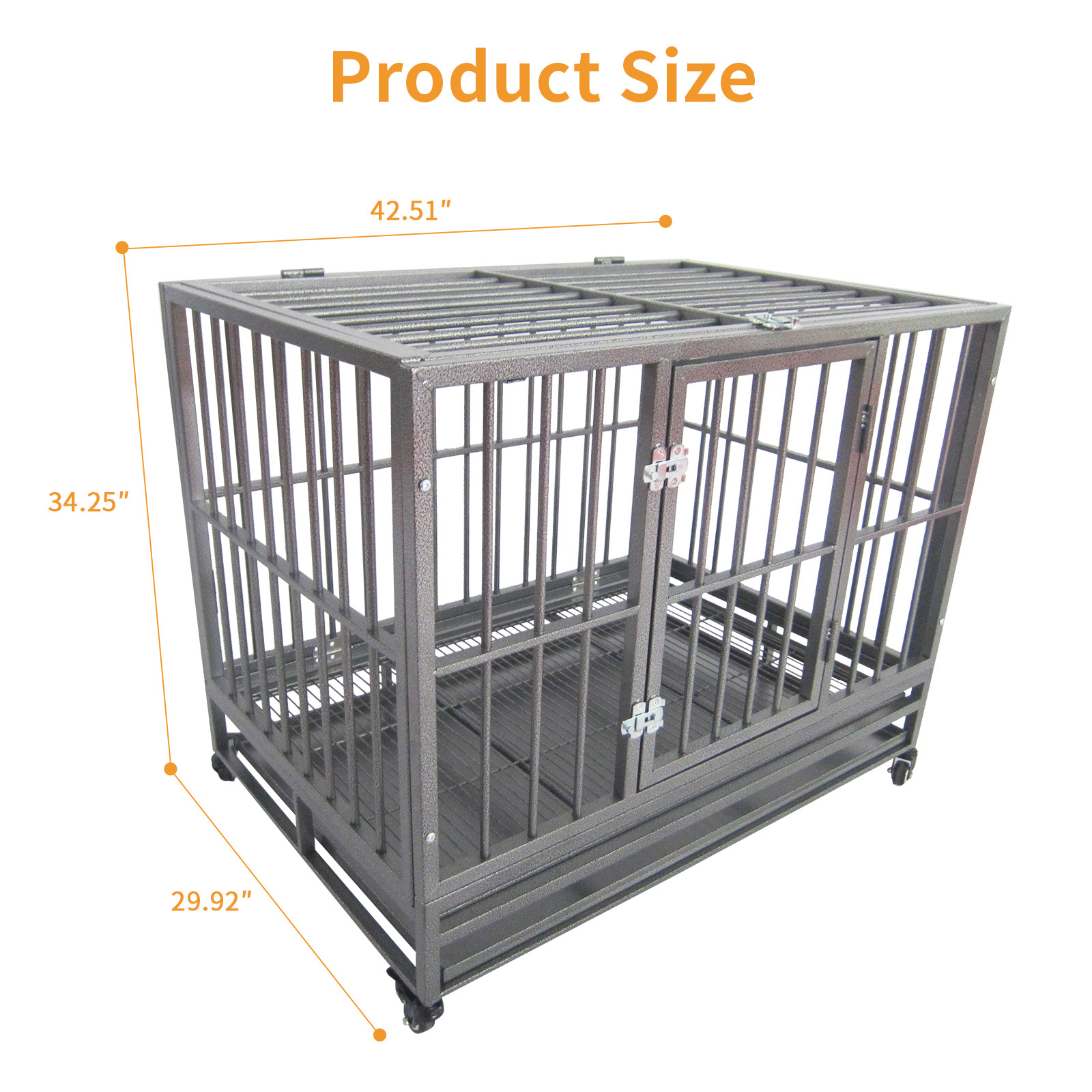 Large Heavy Duty Metal Dog Crate Pet Kennel Black Cage Playpen with Tray&Wheels
Features:
4 wheels for convenient mobility
Equipped with a composite plastic trays
SKU: 4010100200
Material: Metal
Product Size: 36″*24″*30″ / 92x62x75cm
SKU: 4010100300
Material: Metal
Product Size: 43″*30″*34″ / 108x76x87cm
Product description:
Our dog crates will provide your furry family member comfort and security. Featuring with double entry doors, it offers maximum convenience and is extremely safe for containing your pets. Easy to setup, store, transport and clean! Great for securely keeping your pets contained. We esteem every pet owner to be worthy of own!
Package Content:
1 x Dog Crate
4 wheels
Hardware
Manual
Once recommended of your requests or orders, we will ship targeted items in due time from one of our four warehouses(Houston; Chicago; New Jersey; Los Angeles) after calculating your distance and our precise item quantity.
.dc_tracker_img{display:none;}.dc_tracker_img:last-of-type{display:block;}p:empty+hr{display:none;}hr+span.ebay{display:none;}